An opera in ten acts set in Steeltown, USA. Moll the prostitute is sent to jail where she encounters the Liberty Committee, lap dogs to the omnipotent capitalist, Mr. Mister. At night court Moll learns how the Liberty Committee–a reverend, an editor, two artists, a university president–function as prostitutes to his sinister intentions. Written by Marc Blitzstein, The Cradle Will Rock follows these intriguing characters as they relive their stories, leading to a massive union strike that threatens Mr. Mister and his empire. With musical direction by avant garde classical composer, Tucker Fuller, CCTC's production of The Cradle Will Rock heralded the outstanding artistry in this city and explore the play's relevance for New Orleans citizens today.
The Cast
​Emilie Whelan (Moll)
Ian Hoch (Gent, Editor Daily)
Philip Yiannopoulos (Dick, Bugs)Pamela Roberts (Virgil)
Shannon Flaherty (President Prexie)
Brian Tsu (Pianist, Clerk)
David Huynh (Reverend Salvation, Gus)
Dylan Hunter (Doctor Specialist)
Rahim Glaspy (Yasha, Stevie)
Clint Johnson (Dauber, Junior Mister)
Sherri Marina* (Harry Druggist)
Amy Alvarez* (Mrs. Mister)
Jessica Lozano (Sister Mister)
Andrew Kingsley (Mr. Mister)
Ashley Rose Butler (Sadie)
Monica R. Harris (Larry Foreman)
Francesca McKenzie (Ella Hammer)*Signifies Actors Equity
The Crew
​Andy Vaught (Director)
Tucker Fuller (Musical Director)
Margaret Masson (Costume Designer)
Maritza Mercado-Narcisse (Choreographer)
Selena Poznak (Production Manager)
Adam Tourek (Set Designer)
Marcus Stanley (Lighting Designer)
Philip Yiannopoulos (Assistant Director)
Tricia Anderson (Stage Manager)
Powered by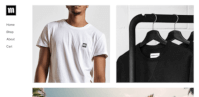 Create your own unique website with customizable templates.