This unusual work was an original American re-telling of Dickens' classic story, with 1960's segregationist Alabama Governor George Wallace as Scrooge, in a hospital after having been shot by a would-be assassin. Adapted from Andrew Vaught's one-act drama

George Wallace In Hell.
The Cast
Michael Martin (George Wallace)
Blake Baudier (Speechwriter)
Britt Hullender (Ghosts)
Emilie Whelan (Seymour's wife)
Jolie Wailes (Lurleen Wallace)
Jorge Lopez (The Deity)
Katrice Scott (Esther)
Lindsay Garvey (Aide)
Paul Atreides (Seymour)
Sean Mellott (Aide)
The Staff
​Andrew Vaught (Director; Writer)
Andrew Kingsley (Production Manager)
Powered by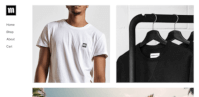 Create your own unique website with customizable templates.