Political cartoonist and playwright Jules Feiffer's wickedly dark comedy is set in 1960s New York City at a point when the Newquist family is reluctantly acknowledging changing times. Their crisis in confidence reaches such a dismal low point they even abandon denial as a coping mechanism. Little Murders

was presented with the award for "Best Comedy" at the 2011 Ambie Awards.
The Cast
​Andrew Farrier (Alfred Chamberlain)
Corina Lill Aylward (Marjorie Newquist)
Emilie Whelan (Patsy Newquist)
Jackson Townsend (Carol Newquist)
Ross Britz (Kenny Newquist)
Alden Eagle (Guest #2)
Andrea Carlin (Guest #1)
Andrew Vaught (Guest #3)
Ian Hoch (Reverand Dupas)
Jim Wright (Judge Stern)
Lloyd Dillon (Lieutenant Practice)
The Staff
Andrea Carlin (Director)
Christina Noble (Costume Design)
Alden Eagle (Sound Design)
Jacqueline "Chex" Sindelar (Stage Manager)
Susan Vaught (Box Office Manager)
Selena Poznak (Lighting Design)
Powered by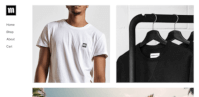 Create your own unique website with customizable templates.