As the plague decimates the city surrounding them, a wealthy London couple sit quarantined in a stripped and boarded-up house after their servants are killed by disease. Just as their confinement period is about to expire, a small girl and runaway break in and condemn the husband and wife to an additional month of imprisonment. As society outside decays, the new companions are compelled to reassess the constraints of class.
The Cast
​Blake Baudier (Bunce)
Charlie Vaught (Snelgrave)
Emilie Whelan (Morse)
Mishikea Braithwaite (Darcy)
Ron Reeder (Kabe)
The Staff
​Andrew Vaught (Director)
Scott Stewart (Lighting Design)
Michele Garval (Stage Manager)
James Uddo (Crew)
Blake Baudier (Technical Director)
Andrew Kingsley (Production Manager)
Powered by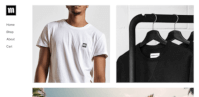 Create your own unique website with customizable templates.