Thornton Wilder's classic take on the history of humanity closed out our 3rd season. Notably, it was the final show to run at the Studio at Colton School on St Claude Avenue, the impromptu art space that was a saving grace to many New Orleans artists in need of gallery and performance space after Hurricane Katrina.
The Cast
​Ensemble:
Andrea Carlin
Blake Baudier
Dennis McCann
Monica Harris
Philip Yiannopoulos
Samantha Seerman
Megan Staab (Sabina)
Jessica Daigle (Mrs. Antrobus)
Christopher Bentivegna (Mr Antrobus)
Jessica Lozano (Gladys)
Kirk Bush (Henry)
Stylist Bartholomew (Fortune Teller)
The Staff
​Andrew Vaught (Director)
Kristen Gremillion (Stage Manager)
Alden Eagle (Assistant Stage Manager)
Christina Noble (Costumes)
Jeff Becker (Scenic Design)
Phil Cramer (Technical Director)
Selena Poznak (Lighting Design)
Powered by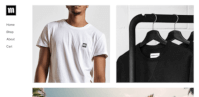 Create your own unique website with customizable templates.