In the cold month of December, Cripple Creek invited you to travel through the ghostly seaside town of Llareggub Hill and meet over forty characters using all of your senses!

Cripple Creek collaborated with Alex McMurray of the Valparaiso Men's Chorus and WRBH Reading Radio to create an original soundscape mixing sea shanties and text from Dylan Thomas' radio play, whirling audiences into a theatrical experience unlike any ever seen in New Orleans!
​
This $25 ticket included a three-course meal and all-you-can-drink "Buggerall" cocktails!
The Cast
Eliot Barron
Claudia Baumgarten
Shannon Flaherty
Monica Harris
Tom Henehan
Dylan Hunter
Chris Lane
Jessica Lozano
Jen Pagan
Veronica Russell
Andrew Vaught
Jim Wright
Bill Malchow
Daron Douglas
The Staff
Emilie Whelan (Director)
Chris Lane (Production Designer)
Betsy Lindell (Sound Designer)
Alex McMurray (Composer)
Selena Poznak (Lighting Designer)
Adam Tourek (Prop Designer)
Kate Kuen (Promotions Coordinator)
Powered by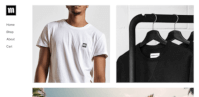 Create your own unique website with customizable templates.