This immersive examination of the economic and political systems which build and maintain class divides in the United States took place in a union hall with the audience sitting amidst the actors. With a capable and clever cast, Cripple Creek reinvigorated this seminal work of the American stage by expounding on the universality of its characters and circumstances.
The Cast
​Blake Baudier (Joe)
Charles Vaught (Barnes)
Danny Marchese (Irv)
David Glasser (Miller)
Dennis McCann (Fatt)
Emilie Whelan (Edna)
Freddie Young (Gunman / Fayette)
Greg Hall (Clayton)
J.R. Fader (Benjamin)
Leah Wingate (Florrie)
Philip Yiannopoulos (Reilly)
Sean Mellott (Sid)
T.J. Toups (Agate)
The Staff
​Andrew Vaught (Director)
Melissa Clark (Costume Design)
Andrew Kingsley (Production Manager)
Powered by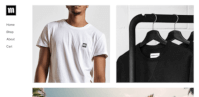 Create your own unique website with customizable templates.